Ice Damming Removal in Utah & Wyoming
Ice damming occurs when thick ridges of solid ice build up along the eaves, preventing melted snow from draining off the roof. Water that backs up behind the dam can damage gutters and shingles, allowing water to leak into a home causing damage to walls, ceilings, and insulation.
In otherwise freezing temperatures, heat from the home can prematurely melt snow on a roof's surface. As melted snow flows down the roof it reaches the portion of the roof that is below 32 and freezes, causing ice damming. The dam will only grow as it is fed by the melting snow above it. Once a damn becomes large enough, water is unable to reach the freezing snow and will remain a liquid. This water leaks into openings in the exterior roof and flows into the attic space, exterior walls or through the ceiling insulation.
Contact

Disaster Professionals
For emergency please call 801-789-5700
Ice Damming Prevention

in Utah & Wyoming

Dwelling coverage may help pay to repair damage from an ice dam. However, personal property coverage typically does not provide protection for damage of your personal belongings caused by ice dams. As it is the homeowner's responsibility to prevent ice damming, it is vital to prevent ice damming before costly damages to the property occur.

Contact Disaster Professionals to discuss your ice damming prevention options. We handle everything from roof repair in Utah & Wyoming to property restoration.
On site, fair and fast Roof Repair quotes!
Find an office location near you...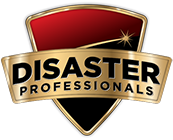 Eagle Mountain, UT
3726 E Campus Drive Suite D
Eagle Mountain, Utah 84005

Call: 801-789-5700
Website